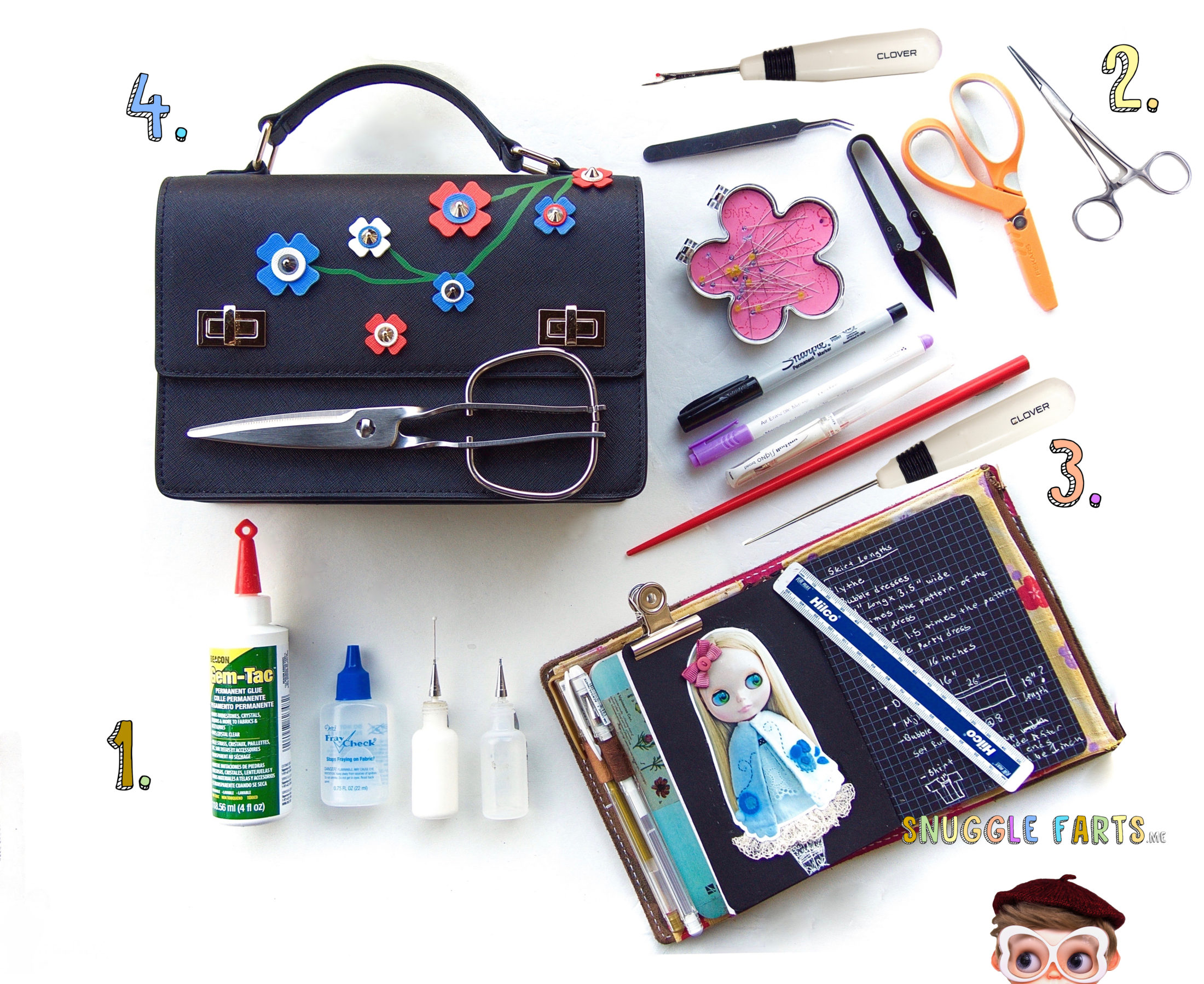 I've been sewing tiny garments for seven years, so this is not an end all be all list, but these items are my everyday essenstials.
1) The Liquids
Gem Tac by Beacon is a permanent glue that dries clear. When used in small amounts, it does not discolor the cloth or leave an oily residue unlike the clear fabric glues.  I find it works better, when pressed with a steam iron.  Bonds rhinestones, crystals, sequins,     embroidered appliqués to fabric. Also, a couple of dots help to mitigate 1mm hem allowances like collars and trims without the use of pins.
Fray Check by Dritz stops fraying of hems.
 Half ounce squeeze bottles with applicator tips by Jacquard. They come in a three pack with .5mm/.7mm/.9mm tips. I use the .5mm with the Gem Tac and the .7mm for the Fray Check. I suggest using pins to cap the tips. However, some pins will react with the Gem Tac, so experiment.
 2) Pointy Things
Razor Edge Softgrip Scissors by Fiskars. These are my primary scissors for cutting fabric.
Clover Kuroha 4 1/4 inch Thread Clippers. I have two. One is tethered with elastic and attached to the base of my sewing machine. Making sure, it's always in arms reach. The other is used, when it comes time to sew snaps.
.4mm x L36mm Extra Fine Pins by Clover. Their Yellow and Blue Glass heads are heat resistant and can be ironed
 Singer Magnetic Pin Cushion makes for easy storage.
4.5 inch 45Degree tweezers are used to apply rhinestones and gems
MedicalGrade 4inch Hemostat and a Standard Chopstick are perfect companions for reversing garments.
Clover Seam Ripper and Sewing Awl are another great pair. The awl is used to feed the fabric through the machine, especially with smaller pattern pieces or holding down trim to the fabric
UniBall Broad UM-153 White, I use to mark on dark fabrics. For lighter colored cloth, I use the Clover Air Erasable marker in ExtraFine. This is probably the best Air Dry pen on the market that I've tried. It does not stain the whitest and most delicate of fabrics.
Ultrafine Black Sharpie for quick note taking on scrap paper.
3) MyFavorites
Keeping notes is probably the most boring part of sewing. But it is a necessary evil, especially if I want to replicate a design. I use the Traveler's Notebook (TN) system. I can slip notebooks through the elastics that run along the spine. The ability to add and remove pages makes the system flexible and reusable. It's also another creative outlet. When I need to take a break from sewing; I can doodle, sketch, plan events, and decorate the pages.
Medical Grade Pupillary Distance Ruler. The PD stick is in millimeters which is an accurate way to measure, when sewing for dolls. I have at least three floating around at each work station.
4) The Pretty. These items are somewhat unnecessary, but I find them so much fun to have
 Toribe Kitchen Shears. Their break apart feature makes them easy to clean and sharpen. They have a nice weight and feel good in the hand. I use them to cut larger patterns
Henri Bendel West 57th School bag, Limited Edition Bouquet. A Structured bag to take my sewing on the road.